Free Dental Consultation for Implants: What to Expect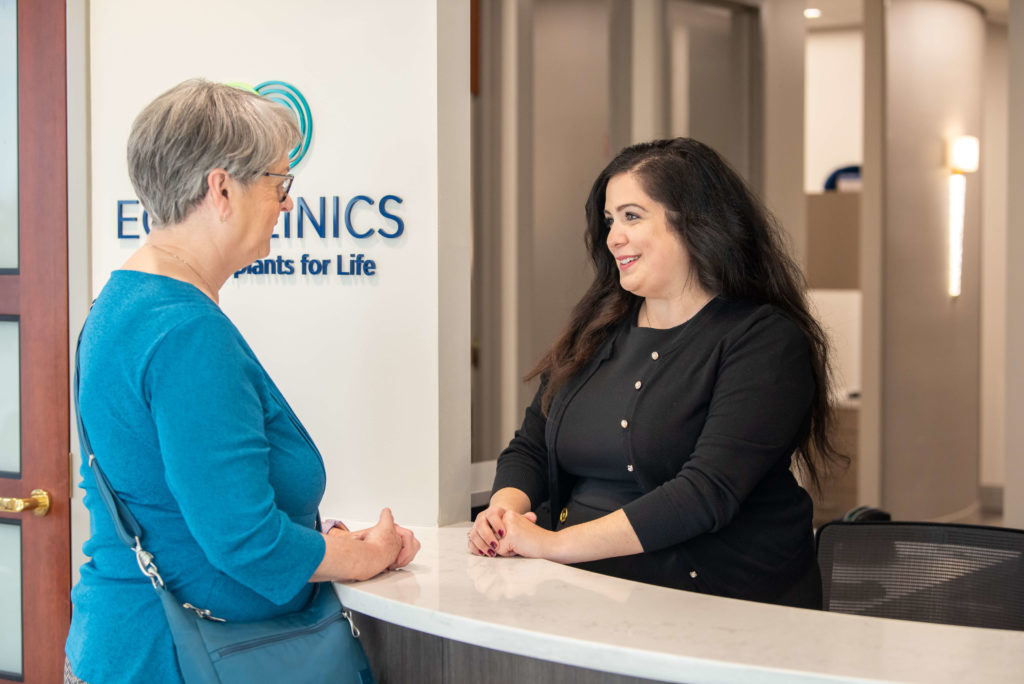 Consultations don't have to be scary! At EON Clinics, we want to get to know you on a personal level so we can best understand your situation and suggest the right dental implant treatment options for YOU.
Arriving at Your Dental Implant Consultation
Upon arrival you will be handed new patient forms that will take approximately 10 to 15 minutes to fill out. After turning in your forms, you will be greeted by an EON Clinics treatment coordinator. Your coordinator will be your guide throughout the dental implant consultation process. They will take your CT scan, introduce you to a doctor, explain the cost of treatment, and offer payment plans. An appointment typically lasts one hour.
Free 3-D CT Scan
At your free consultation, we'll use the CT scanner to take a three-dimensional X-ray of your upper and lower jaws. The process takes about five minutes to set up and scan, with the actual scan lasting only a few seconds! After taking your scan, your treatment coordinator will take you to a private room to begin your dental implant consultation based on the results of your dental scan.
Your treatment coordinator will give you an overview of the dental implant treatment and ask questions to learn more about your particular needs. Once you are comfortable, the treatment coordinator will introduce you to an oral surgeon or prosthodontist.
Read More: Benefits of Attending a Free Consultation
Meet the Doctor
The EON Clinics doctor will explain his or her findings on the CT scan and determine whether you are a candidate for dental implants. If you are a candidate, treatment options will be explained. Your treatment coordinator will stay with you throughout the dental implant consultation to help the doctor keep your timeline, budget, and any other goals or limitations in mind as he or she describes your options.
After you've had the opportunity to discuss every option with the doctor, your treatment coordinator will prepare an all-inclusive treatment quote and go over payment options. Your free dental implants consultation is zero-obligation and completely complimentary. Your coordinator will provide materials for you to take home in case you need some time before making a decision.
"Where to begin? I'm typically not one to write reviews, much less on a public website, but some things must be said. From the moment I walked into their office for the initial consultation, to the minute I left after the final procedure was finished, I felt nothing but warmth and kindness from the wonderful staff at EON."

Amy Jones, EON Clinics Patient
Explore Financing with Monthly Payment Options
Patients who qualify for financing may complete their treatment without ever having to make a down payment to EON Clinics. By clicking below you can apply for financing on your own or view payment plans using the CareCredit and LendingClub payment calculators. These financing options will be offered to you during your free dental implants consultation, and your treatment coordinator will help you apply.
Have questions about insurance? Want to know more about financing? Visit our pricing and insurance page.


Schedule a Free Consultation Today!
Schedule your free consultation online or call us at 844-365-7645. We look forward to meeting you and helping you get the smile you deserve!