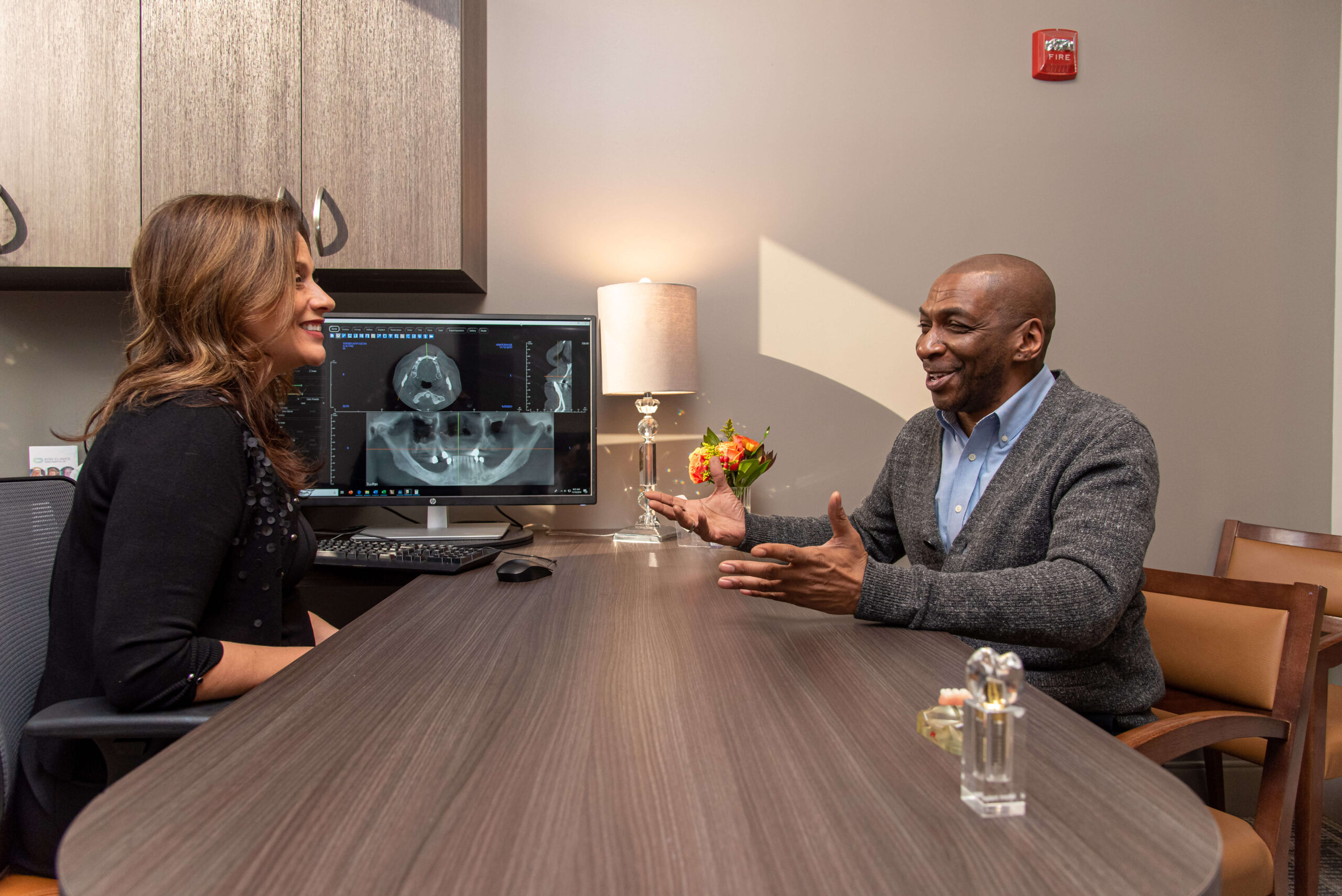 Think the cost of dental implants is out of reach? We're here to let you know it's not!
One common misconception many people have is that dental implant treatment requires payment upfront. In fact, the majority of our patients use a combination of dental implant financing and personal savings to fund their treatment.
Our patients come from a variety of financial situations, occupations, and dental histories. We'll work with you to find a plan that fits your budget and lifestyle.
Yes, we offer payment plans. You have options.
EON Clinics offers dental implant payment plans, making it easy to get the smile you deserve. By taking advantage of our third-party dental implant financing options, you'll be able to split the total cost of your procedure into manageable monthly payments.
We've partnered with these excellent financing companies to make treatment more accessible to you:




We'll make it easy and do the math for you.
Our treatment coordinators are happy to assist you with the entire process at your free consultation. You'll find out the loan amount you're approved for, your interest rate, and repayment terms. We'll also provide your exact treatment cost and plan, so you can budget for your procedure.
What is my interest rate?
Interest rates vary based on the credit plan and your credit score. Some of our partners allow borrowers to choose their repayment terms and offer a 0% interest rate if paid in full on time. Your finances may change, and many of our partners allow borrowers to refinance their loans after one year. It's worth coming in for a free consultation to learn what promotional plans and options you qualify for.
Can I finance dental implants with bad credit?
Loan approval rates for our four dental implant financing partners vary. Even if you are not approved for a loan at this time, our treatment coordinators are happy to suggest alternative options. We've seen patients qualify for unsecured medical loans through credit unions, banks, and other personal loans. A co-signer may also help you qualify for a loan. Don't be afraid to ask your family and close friends for some support during this time. You will be surprised at how willing people can be to help you reach your goal.
Our Dental Implant Financing Partners
Does dental insurance pay for implants?
Certain private insurance plans do reimburse portions of the implant procedure but it's very minimal. Medicaid, Medicare, and state/county insurances (such as BadgerCare and CountyCare) do not cover dental implants at all.
Read More: Does Dental Insurance Pay for Implants?
Plan Ahead! Start with Your Free Consultation
Meet with a doctor to get a free CT scan, personalized treatment plan, and exact cost.
Ask your treatment coordinator if your insurance plan covers a portion of the procedure.
Learn how other patients like you have funded their treatment.
Explore dental implant financing options to fund the remainder of your treatment cost.
It's our job to help you turn your dream of a healthy smile into a reality. Put an end to constant dental work, pain, and compounding issues. Together, we'll get you smiling and back to being you.