The Cost of Dental Implants
EON CLINICS understands every patient is unique, that is why every treatment plan is a custom fit for you.
NOW, Fixed & Final
Full Arch Dental Implants
NO NONSENSE, ALL-INCLUSIVE PRICING
Starting at $19,995.
Fee includes:
Complete Oral Evaluation
Cone-Beam CT Scan
IV sedation
All-Extractions (if needed)
4-6 Implants per Arch
Fixed Acrylic/Ti-bar Implant Prosthesis
This cost does not include bone graft surgery (required in some cases), or general anesthesia.
We partner with the top healthcare finance companies to offer the best possible payment structure to put your new smile within reach.
If you have questions about any of these payment options, please don't hesitate to call us at 800-250-3500 or speak with your Treatment Coordinator during your free consultation.
Why do Patients Choose EON CLINICS?
ONE TEAM
You receive convenient and comprehensive care from our experienced team of specialists, who will go out of their way for you.
ONE PLACE
Your prosthodontist, your oral surgeon and your lab technician all work together in tight coordination to deliver the perfect treatment for you.
ONE COST
We provide an all-inclusive treatment plan and help our patients explore affordable financing — No hidden fees.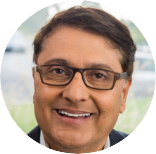 "When we meet our patients, most of them have already gone through a constant history of dental work and maintenance. Their constant short-term "fixes" have caused them long-term problems (and costs). With so many factors, you know why we offer a FREE, No Obligation Consultation. We want our patients to understand all of their options before quoting any pricing."
— Dr Sharma
This is a big decision but we are here for you every step of the way.