Dental Implants Chicago | Implant Specialist Near Me
We are proud to offer the best dental implants in Chicago and the surrounding suburbs. We believe everyone deserves to have a smile they're proud to share.
EON Clinics has the top dental implant centers and implant dentists in Chicago area. We are a family-owned, one-stop dental implant clinic that focuses exclusively on the placement of dental implants, making our team of specialized doctors among the most experienced in the Chicago metropolitan area. Our dental implant clinics are conveniently located in surrounding Chicago suburbs that include Skokie, Schaumburg, and Oak Brook. We also have EON Clinics dental implant locations in Munster, IN and in the Milwaukee area.
Why Choose EON Dental Implants in Chicago IL?
Family-Owned Dental Implant Center
With the most dental implant Chicago area locations, EON marries the benefits of a larger clinic with the personal attention and care of a family-owned and operated practice.
Single Day in One Location. Just One Day!
Each EON Clinics Chicago location houses your entire medical, dental and lab team, which makes it convenient for you to get your new smile in just one day! With EON Clinics, everything you need is in one location, allowing us to provide you with the highest quality of care. Oral surgeons, prosthodontists, treatment coordinators, a dental implant laboratory and a 3-D CT scanner are available at all locations.
Quality Care & Materials
Our medical staff is second to none. Board-certified prosthodontists and oral surgeons provide some of the most advanced procedures in dental care, including the signature All-on-4 dental implants technique. At EON Clinics, the doctors bring years of experience, a high level of expertise, and passion to every case – simple or complex. We use only the highest quality materials to fabricate your implants.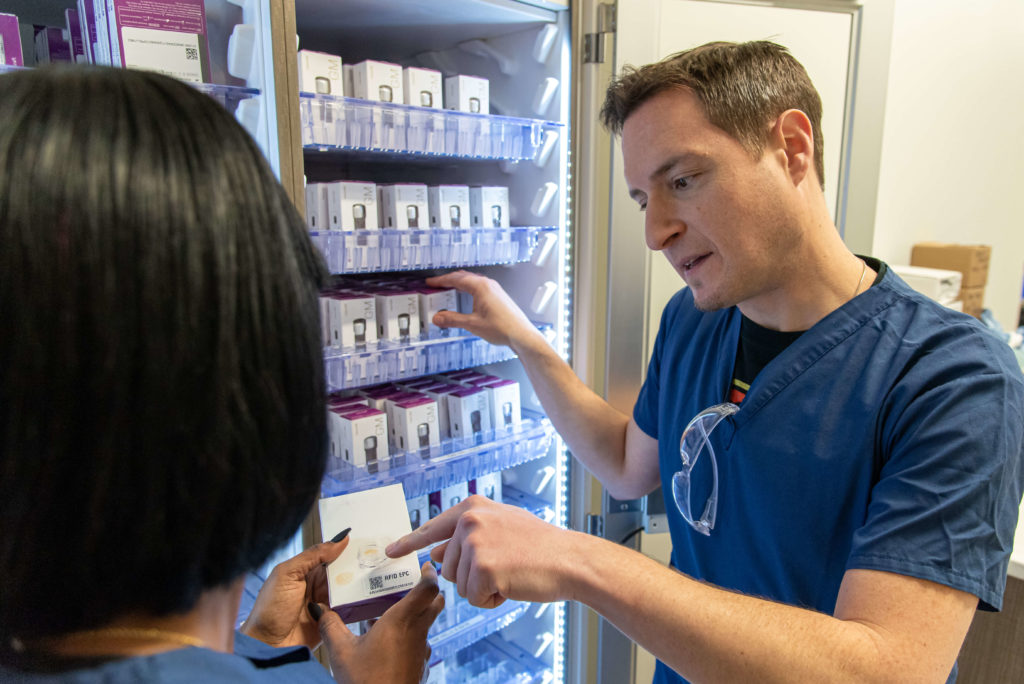 EON Clinics is here to help you decide whether dental implants are right for you. There are many benefits to this solution. 
Here are some of the things you can expect at our all-in-one, same-day dental implants clinics:
You'll have plenty of time to spend with the doctor discussing your concerns and potential treatment options.
Every treatment is selected specifically around our patient's needs. You'll leave with a custom recommendation from a top-tier dental expert specific to your mouth.
We are able to schedule the most dental implant procedures in Greater Chicago per week. This means your wait time to get dental implants is much shorter compared to the competition.
EON Clinics partners with experienced prosthodontists and oral surgeons who have literally done thousands of successful dental implant procedures.
All procedures will be done on a single day in one location. Even our labs are on-site!
We offer continuity of care. Don't get left behind by a retiring local dentist.
EON Clinics uses high-quality materials and the best technology available to make sure your implants feel comfortable and completely natural.
Are you weighing the pros and cons of a local dental implant clinic versus a corporate dental implant chain? At EON Clinics, we offer the best of both!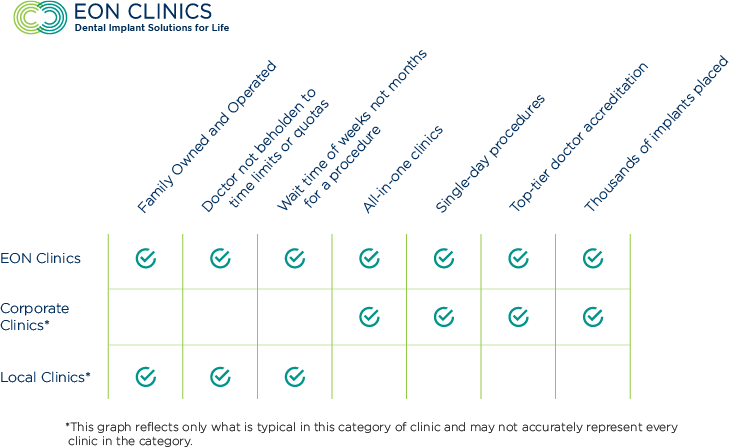 Top 5 Reasons to Choose Dental Implants
Dental implants look natural and function in a natural way.
Dental implants look attractive and can give your confidence a boost.
Dental implants are easy to keep clean and take care of.
Dental implants can help prevent bone deterioration and preserve your natural facial structure.
Improve your smile. In terms of aesthetics, an implant-supported replacement tooth looks more natural than a traditional tooth-supported bridge. This is particularly important for your frontal teeth. Preventing a visible bone defect is critical for a beautiful, healthy smile and an improved overall appearance.
There are several factors that impact whether you're a good candidate for dental implants. We'll be sure to verify whether this is the right solution for you before we begin our work.
Why Choose EON Clinics Dental Implants Chicago?
For anyone looking for professional dental implants, EON Clinics dental implants Chicago is the obvious choice. We specialize in working with dental implants only, so all of our experience is relevant to your needs. We have performed over 4,000 surgeries and have the knowledge and expertise you are looking for.
We are known for our welcoming attitude and quality of patient care. We value every patient we meet and strive to make each and every person feel comfortable and ready for the procedure. We are here to bring you confidence and renew your smile.
At EON Clinics dental implants Chicago, we offer every patient a free consultation, including the chance to meet with a doctor, receive a free 3D CT scan, and get a quote tailored to your needs. We also have financing options available.
Free Consultation with an Implant Dentist
As is customary at all EON Clinics Chicago locations, clients who call to schedule a complimentary, no-obligation consultation will meet with a prosthodontist and treatment coordinator. These dental professionals will assist you throughout your journey, while helping with financial or other treatment matters that may arise. During the free consultation, information is gathered about the prospective patient's overall health and specific dental needs. Clinic staff then review dental implant treatment options with the individual, explaining the advantages and disadvantages of each.
The consultation also includes a 3-D CT scan to evaluate the condition of the individual's teeth, soft tissue, nerve pathways, and bone. In a single scan, this sophisticated imaging technology quickly provides 3-D images that help guide accurate placement of dental implants.
Contact us today for a free dental implants consultation or call 800-250-3500 to learn more about dental implants, explore payment plan options, and ask questions you may have about our team.