Why EON Is the Right Choice
With EON, You're Family
EON strives to treat all of their patients how they deserve to be treated: with the BEST care possible.

Are you weighing the pros and cons of a local clinic versus a corporate dental implant chain? At EON Clinics, we offer the best of both! We're family owned and operated, and we have the most locations in Chicagoland. Here are some of the things you can expect at our clinics:
You'll have plenty of time to spend with the doctor discussing your concerns and potential treatment options.
Every treatment is selected specifically around our patient's needs. You'll leave with a custom recommendation from a top-tier dental expert specific to your mouth.
We are able to schedule the most implant procedures in Greater Chicago per week. This means you wait weeks, not months for your first procedure.
EON Clinics partners with experienced prosthodontists and oral surgeons who have literally done thousands of successful dental implant procedures.
All procedures will be done at a single day in one location. Even our labs are on-site!
We offer continuity of care. Don't get left behind by a retiring local dentist.
EON Clinics uses high quality materials and the best technology available to make sure your implants feel comfortable and completely natural.
Take a look at how we stand out from our competition. At EON Clinics, you'll find all the warmth and care of a local clinic combined with the state-of-the-art technology and cutting edge experience of a larger company.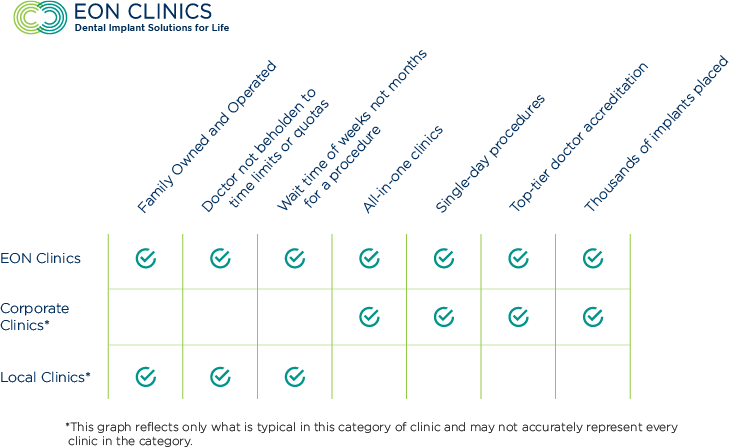 We take our patients' needs seriously. We make ourselves accessible to you. We don't force our doctors to keep an eye on the clock or make them beholden to quotas the way larger corporations do. Our treatment coordinators and surgical liaison are there to address any questions or concerns. And unlike smaller clinics, we always have the staff on hand to keep on top of your treatment. We've got the warm feel of a local practice and all the cutting edge advantages of larger implant chains. Come experience the best of both at EON!