Are You Looking for a Permanent Solution to Replace Broken or Missing Teeth?
Dental implants are the most comfortable, natural way to restore your smile. Dental implants are artificial tooth roots that are permanently anchored to the jaw bone. They look, feel, and function just like real teeth, allowing you to eat all your favorite foods with zero pain. 
Unlike dentures or partial bridges, dental implants prevent bone resorption, or loss of jaw bone, resulting in a more youthful appearance. You'll feel better and smile with more confidence.
EON Clinics specializes in the three main types of dental implant procedures:
Single tooth implants

Multiple teeth implants

Full jaw implants, also known as the

All-on-4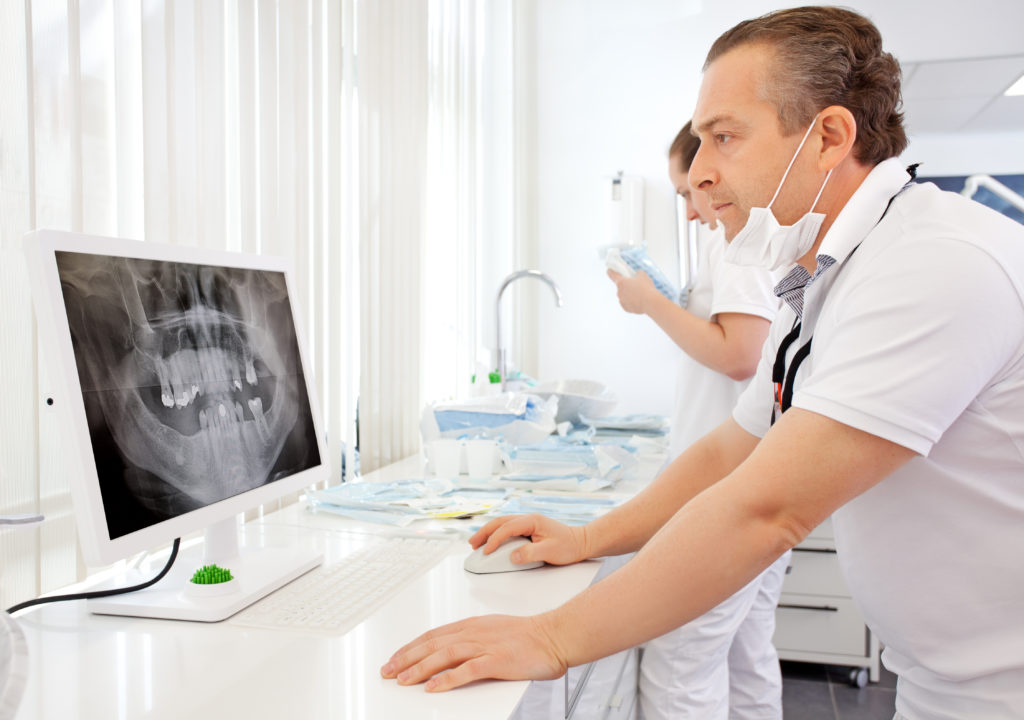 What Are the Risks If I Don't Take Action?
Did you know that your oral health has a direct connection to your overall health? Many dental implant candidates do not realize that there is a sense of urgency involved when a tooth is missing. There are many health risks and hazards to leaving a gap of missing teeth. When a single tooth or multiple teeth are lost, the remaining teeth start to shift to compensate and fill the gap.
By avoiding treatment, you are at risk of the following:
Bone resorption

and a loss of bone tissue, resulting in a sunken appearance

Periodontitis

, or gum disease, due to the buildup of bacteria, which can lead to heart problems

Premature wear or damage from increased workload on the surrounding teeth
Take action now to avoid compounding dental problems and higher future costs.
EON Clinics' All-in-One Approach
It shouldn't be stressful to get the healthy, confident smile you deserve. At EON Clinics, we make the process of getting dental implants quick and convenient. Our doctors have performed over 18,000 dental implant procedures with a 97% success rate. Best of all, our oral surgeons, prosthodontists, surgical assistants, and lab are all in one convenient location. This allows us to deliver your smile faster than your general dentist or other implant centers. 
We're the largest dental implant center in the Midwest, but we also happen to be family-owned, which means you'll receive friendly, personalized care from top experts in the region.
Watch our patient testimonial videos to see how our patients transformed their lives with dental implants.
Worried About Cost? We Offer Affordable Payment Plans With No Hidden Fees.
Short term solutions can cause long term oral health issues and complications as well as additional costs. We understand that your smile is such a large part of who you are as a person. We'll work with you to find an affordable payment plan that fits your budget. You'll receive an exact, personalized cost at your free consultation.
Read More: The Cost of Dental Implants
Five Convenient Locations in Illinois, Wisconsin, and Indiana
Your free consultation and CT scan at EON Clinics carries no obligation! You will leave with a treatment plan, personalized cost, and clear idea of how EON Clinics can help you on your dental implant journey. To speak with a dental implant expert and schedule an appointment at a location near you, call 800-250-3500 or visit our scheduler.
Start living again. Your beautiful new smile awaits you!