Full Mouth Dental Implants
What Are Full Mouth Dental Implants?
Everything you need to know about full arch restoration.
What Are the Benefits of Full Mouth Dental Implants?
Although bridges and dentures are crafted to resemble healthy teeth, they can not replace the support of tooth roots which are only provided by dental implants. As a result, implants provide the most natural solution to replace missing teeth as they effectively recreate the same root system as natural teeth, creating a stronger and more reliable smile.
With dental implants, there's no need to remove them to reapply adhesives or for nightly cleaning. You can wake up and go about your day without worrying about your teeth. Also, because they are permanent means they won't shift and irritate your gums.
When properly cared for, dental implants can last a lifetime, making them one of the best investments for long-term tooth replacement.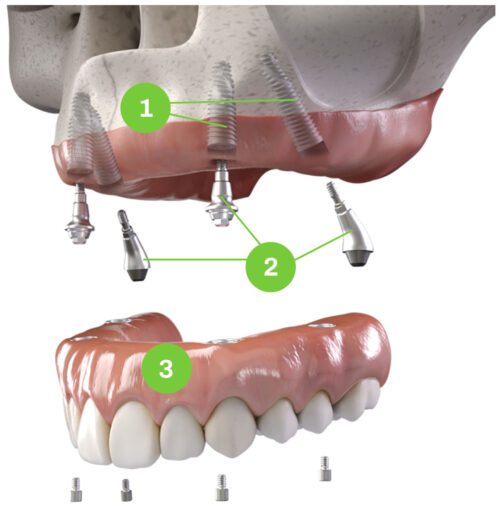 Financing & Payment Plans
We provide our patients with a comprehensive treatment plan and assist them with affordable payment options.
We price-match all reputable implant centers.


Does Dental Insurance Cover Implants?
Dental insurance coverage for implants varies depending on the policy. It is rare for insurance to cover the entire cost of a dental implant, but some policies may cover a portion of the expense. It is important to check with your dental insurance provider to determine what is covered under your plan.
While dental implants may seem costly, they can actually save you money in the long run compared to other solutions that require frequent replacements and can lead to oral health issues and complications. At our practice, we offer all-inclusive pricing options to accommodate a range of budgets.
Our Successful Dental Implant Solutions
For four decades, we have been passionate about providing beautiful smiles for our customers. Smiling is a great way to express yourself and influence the people around you. Improving the look of your smile is also guaranteed to boost your self-confidence. Take a look at some of our patients 
before and after pictures
. We can't wait to transform your smile!
The Full Mouth Dental Implant Process.
5 Simple Steps To A New Smile
STEP #1
STEP #2
STEP #3
STEP #4
STEP #5
STEP #1
Free Consultation
Get a free 3-D CBCT scan and consult with a specialist about the best treatment choices for your dental situation. We'll guide you through the entire process, give you an accurate price, and go over payment options. You'll leave knowing exactly what you need and what will occur.
STEP #2
STEP #3
STEP #4
STEP #5
Are You Ready to Get Started?
Are you ready to find out for yourself if dental implants are right for you? Schedule a free consultation in Chicago now and receive a free 3D CT scan. You'll meet with an EON doctor to discuss your treatment choices as well as the cost and payment alternatives available to you