EON Dental Implant Photos:
See How Implants Can Change Your Life!
Whether you're looking to improve your smile, avoid painful dentures or live a healthier life, dental implants are an excellent solution.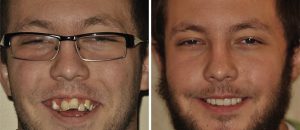 The All-on-4 (full jaw implants) is a great solution for misplaced or porous teeth due to poor genetics.
The All-on-4 is the perfect fix for wide gaps and at-risk teeth.
The All-on-4 or an implant-supported bridge is the best choice for badly cracked or decayed teeth.
Dental implants are a great replacement for ugly or failing crowns.