What is a Dental Prosthodontist?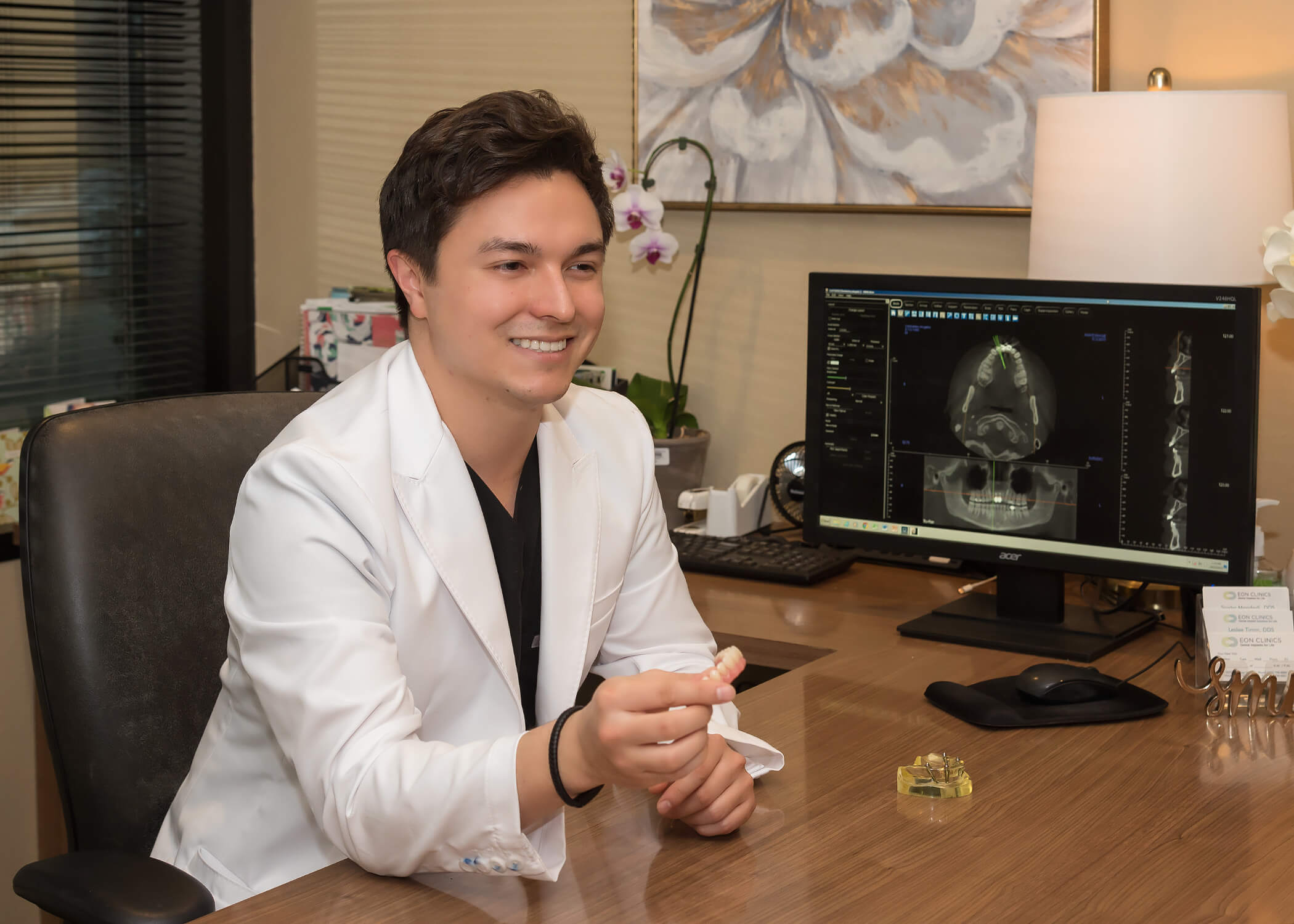 There are many different areas of specialization in dentistry. It can be confusing as to which specialized dentist performs which treatments. The American Dental Association recognizes ten different areas of specialization, including prosthodontics. This is what many of EON Clinics' highly-skilled implant dentists specialize in.
Many of us grow up visiting a family dentist who provides checkups and x-rays to ensure good oral health. Misaligned teeth require some people to see orthodontists who recommend braces to straighten them out. If you've ever needed root canal surgery, those are performed by endodontists. Periodontists are dentists who specialize in treating gum disease. If you are considering having a missing tooth replaced, you will need to schedule a visit with a dental prosthodontist.
At EON Clinics Dental Implants, we employ highly-trained implant dentists, including prosthodontists. We provide evaluations and dental implant treatment to patients throughout Chicagoland, southern Wisconsin, and northwest Indiana. Schedule a free consultation online today or call us at 800-250-3500.
What is Prosthodontics?
Prosthodontics is the specialized area of dentistry concerned with both the function and appearance of teeth. Prosthodontists are highly-trained implant dentists that are trained in all areas of the mouth including gums, lips, jaw joints, and jawbone.
Prosthodontists are sometimes referred to as the "architects of the smile." These specialized dentists take part in designing and carrying out highly-detailed dental restorations. In addition to dental implant procedures, prosthodontists provide screenings for oral cancer and other disorders including sleep apnea.
Prosthodontists also treat issues related to the jaw, such as temporomandibular joint disorder which results in inflammation of the nerves in the jaw joint. This disorder is very painful and prosthodontists provide solutions to reduce the pain. A bite guard may be developed, surgery may be required, and certain pain medications may be prescribed.
What is a Dental Prosthesis?
You may have heard the word prosthesis used in reference to artificial teeth. Prosthesis in Greek means 'attachment' and odont means 'tooth', so prosthodontists are doctors that specialize in tooth attachments, such as dental implants.
Types of dental prosthesis include:
Tooth loss can result from neglecting proper dental hygiene which can lead to gum disease. Sometimes a traumatic injury results in the loss of teeth. Single tooth implants, multiple tooth implants, and All-on-4 dental implants procedures are done by prosthodontists.
Prosthodontists work with dental labs to create the materials used in dental restoration. These procedures improve the appearance and biting capabilities in the patients who get them. At EON Clinics, our method in unique in that our prosthodontist and lab technicians are all under one roof. This makes it easy and quick for patients to receive same day dental implants.
What Training & Education Do Prosthodontists Get?
Dentists receive four years of education and training from dental schools. They earn either a Doctor of Dental Surgery (DDS) or a Doctor of Dental Medicine (DMD) degree. A prosthodontists completes three more years of graduate level study at a school accredited by the American Dental Association. Prosthodontists are skilled in both simple dental implant surgeries as well as complex dental restorations.
Schedule a Consultation with a Prosthodontist
From single and multiple tooth to full jaw All-on-4 dental implants, EON Clinics helps patients enjoy eating and smiling again. We offer a free consultation which includes a free CT scan and a review of your treatment options with a prosthodontist. Schedule your free consultation online today or call us at 800-250-3500.