Elm Grove Living Sponsor Spotlight: EON Clinics Dental Implants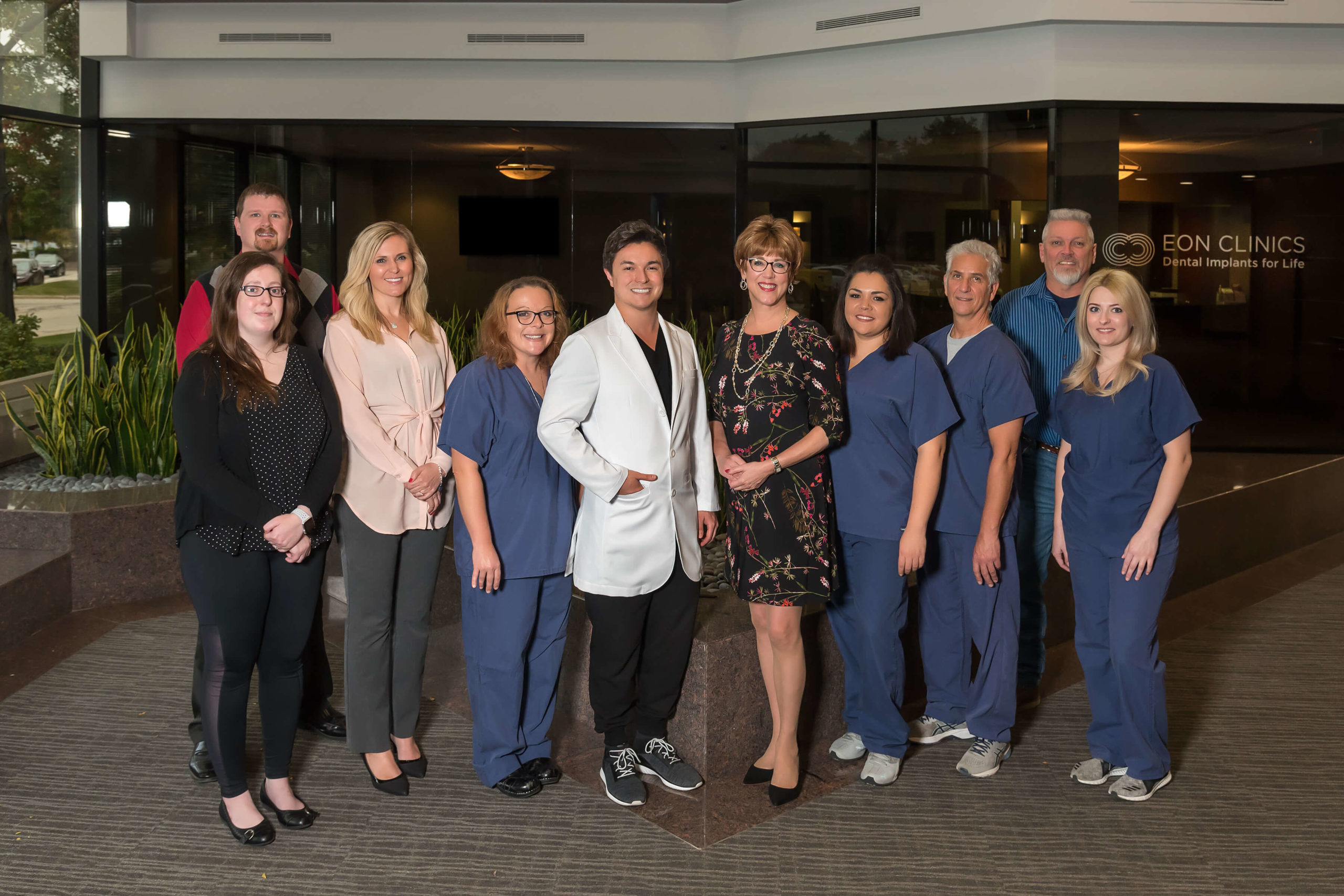 Elm Grove Living Sponsor Spotlight: EON Clinics Dental Implants. Yes, you heard it right. Check out our interview with Elm Grove Living Magazine below! This article was featured in the December 2019 issue.
What is Your Business and How/Why Did You Start Your Business?
EON Clinics, an all-in-one dental implant center, was founded by Dr. Rajan Sharma in 2008. As an endodontist, Dr. Sharma witnessed patients traveling back and forth between multiple clinics and specialists to get dental implants. Seeing the need for a convenient, all-in-one dental implant center, he worked to bring his vision of EON Clinics to life. The company has since expanded to five locations in Wisconsin, Illinois, and Indiana.
What Services Do You Offer?
We specialize in single, multiple, and full jaw implants, which use the advanced All-on-4 technique. Most patients come to us with dental pain and broken or missing teeth due to accidents, periodontal disease, dental neglect, and a variety of other factors.
What is Unique About the Business?
We make it simple, quick, and convenient to get teeth implants because the entire implant process is kept in-house. Many general dentists and clinics that offer dental treatment do not have a lab onsite and must rely on an outside prosthodontist and technicians, which takes considerably more time.
At EON Clinics, you'll find the oral surgeons who place the dental implants, prosthodontists who specialize in tooth replacement, the dental implant laboratory, and 3-D CT scanner all in one facility. This results in comprehensive care and better results for our patients seeking a beautiful smile.
We also pride ourselves on being a family-owned dental implant center. We have held true to the belief that our business exists to provide patients with the very best dental implants and the highest level of dental care.
What is the Most Rewarding Aspect of Your Line of Work?
We change lives every day! Many of our patients are in a state of dental exhaustion due to all the dental work they have gone through and options like dentures that were uncomfortable or didn't suit their lifestyles. Many of them fear the dentist, experience pain while chewing, or have low self-esteem due to their inability to smile freely.
Understanding these struggles our patients face and providing a permanent dental solution is incredibly rewarding. We love to help patients get their smiles back. It is such a transformative experience for our patients, and we're thrilled to be a part of that journey.
How Can I Learn if Dental Implants are a Good Tooth Replacement Option for Me?
Your oral health affects your overall health. We offer a free consultation and CT scan. You can meet with a doctor to see if you are a candidate for dental treatment and discuss your treatment options. If you're looking for a permanent solution to missing or broken teeth, give us a call, and we'll take care of you!
Learn more about EON Clinics Dental Implants in Waukesha and feel free to call us with any questions you may have at 800-250-3500.