Dental Implants Arlington Heights IL
EON Clinics Dental Implants Arlington Heights offers the convenience of an All-in-One center and the gentleness of a family practice.
We are proud to provide the best dental implant care possible for the Arlington Heights community. We'll go out of our way to give you the care and attention that you deserve. We believe everyone deserves to have a smile they're proud to share.
The Village of Arlington Heights, Illinois, has the motto "City of Good Neighbors" and is home to 75,926 people, according to the United States Census Bureau estimates of July 2015. There is plenty to do and see in Arlington Heights. Many people living locally visit Arlington Park, a great location for anyone that enjoys watching horse racing. For those into live entertainment, the Metropolis
Performing Arts Centre is a great place to see theater productions come to life in an intimate venue. Arlington Heights is located in Cook County, just a 26-mile drive from the big city of Chicago. EON Clinics is proud of all its welcoming locations in Greater Chicago, Indiana and Wisconsin. We are ready to serve the community of Arlington Heights and the nearby areas of Rolling Meadows, Mount Prospect, Prospect Heights, Palatine, Elk Grove Village, Wheeling, and Buffalo Grove with exceptional dental implant solutions.
Why Choose EON Clinics Dental Implants in Arlington Heights, IL?
Are you weighing the pros and cons of a local dental implant clinic versus a corporate dental implant chain? At EON Clinics, we offer the best of both! We're family-owned and operated, and we have the most locations in Chicagoland.
Here are some of the things you can expect at our All-in-One, same-day dental implant clinics:
You'll have plenty of time to spend with the doctor discussing your concerns and potential treatment options.
Every treatment is selected specifically around our patient's needs. You'll leave with a custom recommendation from a top-tier dental expert specific to your mouth.
We are able to schedule the most dental implant procedures in Greater Chicago per week. This means your wait time to get dental implants is much shorter compared to the competition.
EON Clinics partners with experienced prosthodontists and oral surgeons who have literally done thousands of successful dental implant procedures.
All procedures will be done at a single day in one location. Even our labs are on-site!
We offer continuity of care. Don't get left behind by a retiring local dentist.
EON Clinics uses high-quality materials and the best technology available to make sure your implants feel comfortable and completely natural.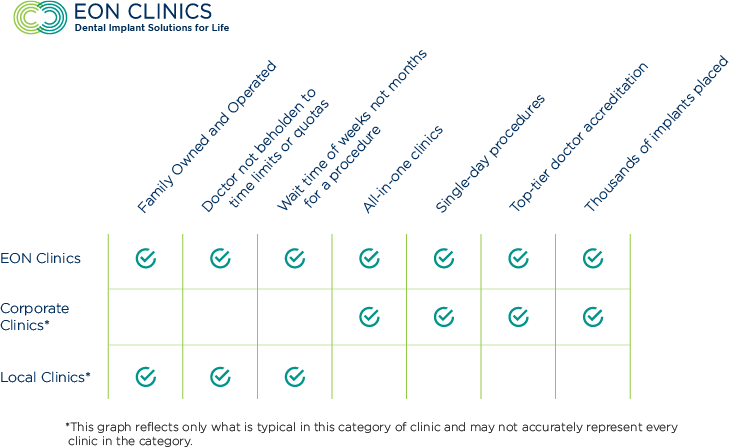 Most popular reasons why dental implants are right for you
Dental implants are designed to look, feel, and function like your natural teeth.
Dental implants look attractive and can give your confidence a boost to smile, eat, and interact with others without worrying about how they look or if they will fall out.
Dental implants are easy to keep clean and take care of. With maintenance and proper care, dental implants can last for the rest of your life.
Dental implants can help prevent bone deterioration and preserve your natural facial structure. They also help restore your jawbone structure because they reduce the load on remaining teeth and preserve natural tooth tissue helping improve your jawbone height.
Because of all the advantages mentioned above, dental implants provide excellent long-term value and can be a fantastic lifetime investment in long-term oral health.
There are several factors that impact whether you're a good candidate for dental implants. We'll be sure to verify whether this is the right solution for you before we begin our work.
Why Choose EON Clinics Dental Implants Arlington Heights?
For anyone looking for professional dental implants, EON Clinics dental implants Arlington Heights is the obvious choice. We specialize in working with dental implants only, so all of our experience is relevant to your needs. We have performed over 4,000 surgeries and have the knowledge and expertise you are looking for.
We are known for our welcoming attitude and quality of patient care. We value every patient we meet and strive to make each and every person feel comfortable and ready for the procedure. We are here to bring you confidence and renew your smile.
We offer every patient a free consultation, including the chance to meet with a doctor, receive a free 3D CT scan, and get a quote tailored to your needs. We also have financing options available.
Schedule Your Free Dental Implants Consultation
Book a free dental implants consultation with one of our dental implant specialists or call 800-250-3500. Find if dental implants in Arlington Heights are right for you, and receive an initial estimate of time and cost as well as a free 3D CT scan.